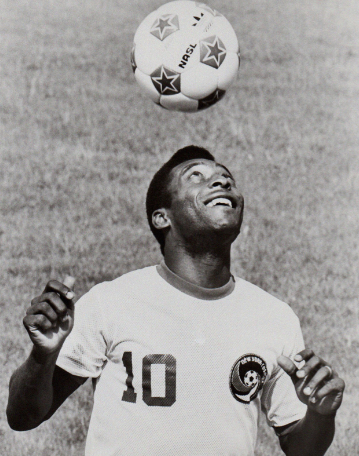 As it is Black History Month, it is a great time to remember one of the greatest soccer players of all time, Pelé. Although Pelé experienced abundant racism during his athletic career, he forever changed soccer for black players.
Edson Arantes do Nascimento, also known as Pelé, was born on October 23, 1940 in Três Corações, Brazil. Nascimento grew up in extreme poverty and as a young child had to work in tea shops as a servant to earn money for his family. Pelé's family could not afford to buy him a soccer ball, so he played and practiced with a sock filled with newspaper, and even grapefruits. His father, who was a professional soccer player, taught Pelé how to play soccer, and already at a young age, he showcased astonishing talent. When Pelé was 14, he started playing indoor soccer against adults. While he was considered too young to play, he ended up being the top scorer of the league, which provided him with the confidence he needed to excel in professional soccer.
At 15 he was accepted to a professional team named Santos. In his first game, he scored one goal which started his amazing professional career. In that same season, Pelé became the top scorer of the whole league, and many wealthy, dominant European teams tried to sign him, but Santos was determined to keep him. Even the president of Brazil at the time got involved and declared Pelé an "official national treasure" to make sure Pelé stayed in Brazil, and with Santos. He ended up staying, and Santos won the Brazilian league, where Pelé was the top scorer, with 58 goals, which is still the record today. With all of this success, he is considered to be the highest paid athlete at the time, and also one of the most famous people at the time. Pelé was so influential that during the Nigerian Civil War, they had a 48 hour ceasefire so they could watch him play.
For the Brazilian national team, Pelé is the all time top scorer, and he is also the youngest scorer. At the age of 16, at his first game against Argentina, he scored his first goal, in a 2-1 loss. But, later in his career for Brazil, he scored many goals, and got an amazing 3 World Cups, which is the most any player has won. This is the most important competition a soccer player can win, and Pelé was able to win it 3 times which is one of the reasons that people say that he is the greatest of all time.
Unfortunately, Pelé passed away on December 29, 2022 in São Paulo, Brazil after he had undergone treatment for colon cancer in 2021. Since then, he was hospitalized and died following multiple organ failures. Even though he may have passed, he will be remembered forever for all the success and fame that he earned during his lifetime. Pelé inspired black kids to follow their aspirations, and showed them that their dreams can come true, just like they did for him.