The Legacy of Serena Williams
One of the greatest tennis players of all time, Serena Jameka Williams, recently withdrew from the professional world of tennis in September of 2022. She explained the reason for her retirement was her desire to put more effort and focus on her growing family. While her reasoning is understandable, many tennis fans are devastated at this reality as Williams has touched the lives of countless people. The tennis anomaly left a massive impact on the past and future of tennis itself by not only revolutionizing the game with her unique playing style, but defying societal standards surrounding the community.
Serena Williams was born and raised in Compton, California in 1981 where her father Richard Williams had embedded the ideas of professional tennis early in her and her older sister, Venus. Although the family faced financial struggles in their low middle class neighborhood, Richard was determined to give his daughters better opportunities. Thus, the trio spent hours playing everyday on local courts and in numerous tournaments throughout California. Richard Williams was known to be strict with his coaching style, but his methods were highly effective as the two sisters quickly developed their game and committed to the professional game at just 14 years old. In an interview with Tennis World, Serena commented on the influence that her childhood had on her professional career, "Honestly every time I try to feel something, I go back and say 'Serena, you're from Compton.' Yeah (I can do anything). Because of all the things that I had to go through, I think of the courts and the dead balls, and then I literally don't feel anything".
Serena's humble beginnings left a greater impact on her than any tennis coach could, and the adversities she faced gave her determination, grit, and strength, which translated to her style of play. Williams has gained recognition for her fast, aggressive play which allows her to dominate on the court. She uses the most basic, yet challenging aspect of tennis to push her ahead, the serve. With her strong physique she is able to serve with great power, however the precision of her serves is equally as impressive with her ability to pinpoint the ball in any area of the court. In fact, one of the biggest threats she brings to the game is her unmatched athletic ability, which is derived from pure effort and hard work. Williams has taken the repetition and consistency she learned during her training growing up and utilized it to make her serve lethal almost every time. It is even said that Williams has one of the most technically sound serves in all of professional tennis with perfect timing, rhythm, and power. Similarly, Serena has pulled influence from men's professional players she watched growing up in her forehand and backhand swings. Her traditional approach to these moves gives her an advantage over opponents as her grip and swing is able to drive power into the stroke that is difficult to answer. While modern players have tended to put focus on plays and strategy, Williams uses technique to hit the ball hard and deep, pushing opponents out of position. Serena Williams's unique upbringing answers many questions as to how she has become the face of the sport, it is clear that her guidance, practice, and experience as a young woman developed her game drastically, as well as developed how players viewed the game.
At the 1999 US Open, Serena Williams became the second African American woman to win a Grand Slam at just seventeen years old. Four years later she became the first African-American to win the championship in the Australian Open. Since the creation of the professional sport, it has been predominantly portrayed in the media to be played by white males in conventional, white clothing. Additionally, tennis is considered to be a "rich sport", as private tennis clubs and coaches are more accessible to the higher income classes. Unfortunately, Serena Williams faced lots of animosity from the tennis community as someone who did not "fit" into these standards of what a tennis player "should" be. However it would take a lot more than prejudice to set the star off her path, as she surpassed societal expectations and lifted the representation for black women in the sport. From her first professional appearance, Williams stood out from the "typical" tennis look that the media was used to, she was muscular, played with beads in her long braided hair, and showed off her undeniable passion through loud celebrations for every point she earned. While many critics vocalized their opinions that these things were inappropriate and unacceptable, Serena Williams turned a deaf ear to the comments and instead focused on the court. Her career required physical strength as well as mental strength as she endured heavy racism and sexism throughout. For instance, in 2001 during the Indian Wells tournament final in California, masses of people in the crowd booed and yelled racial slurs at the Williams sisters, ridiculing their appearances, actions, and athletic abilities. Although internally affected by the crowd's actions, 19 year old Williams used it as fuel to win the tournament in an impressive match against renowned Kim Clijisters. This tournament marked a pivotal point in her career as she would go on to win 73 career singles titles, 23 doubles titles, two mixed doubles titles, four gold medals, and hold the record for most Grand Slam singles titles during the open era. Evidently, Serena Williams was driven to prove people like those in the Indian Wells crowd in 2001 wrong by becoming the best tennis player, aside from her physical attributes. In an interview with Vogue following her retirement announcement, Williams said "I'd like to think that thanks to opportunities afforded to me, women athletes feel that they can be themselves on the court. They can play with aggression and pump their fists. They can be strong yet beautiful. They can wear what they want and say what they want and kick butt and be proud of it all". It is clear that Williams does not shy away from speaking her mind, advocating for greater representation and equal opportunity for diverse women in professional sports. By gaining a large platform from all her accomplishments Serena carries a great influence in the media where she works to change the way tennis has been seen. Success for Serena meant success for the black and female community, battling what society deemed as "acceptable" and coming up on top continues to inspire athletes of all demographics.
Serena Williams pushed boundaries throughout her career, from standing out on a technical level to making a social impact bigger than herself. As a young woman, growing up in an unforgiving environment, her family helped her fight to make a name for herself in the realm of professional sports. This fight stayed with the athlete and carried her through numerous victories, on and off the court. She did not just become the most recognized and praised black female player, but the best tennis player in the competition. Serena's career brought attention to athletes of all backgrounds and showed aspiring players that their capabilities are limitless, despite what the media previously told them.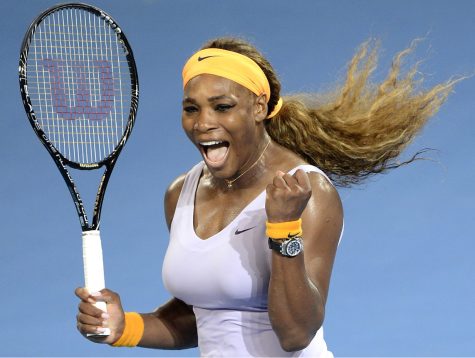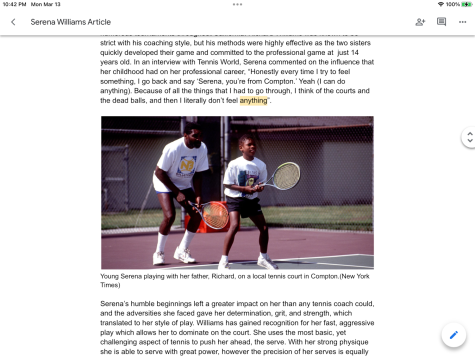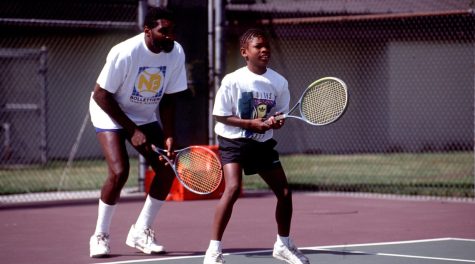 Sources:
https://australiansportscamps.com.au/blog/techniques-and-tactics-that-serena-williams-uses/
https://www.britannica.com/biography/Serena-Williams
https://www.vogue.com/article/serena-williams-retirement-in-her-own-words