The Return of boygenius
Jaws dropped, tears were shed, and shrieks were heard worldwide on January 18th, 2023 when the indie supergroup, boygenius, announced their official comeback. 
Superstar artists, Julien Baker, Lucy Dacus, and Phoebe Bridgers created boygenius "on accident", becoming friends, touring together occasionally, and exchanging book recommendations with one another in 2016.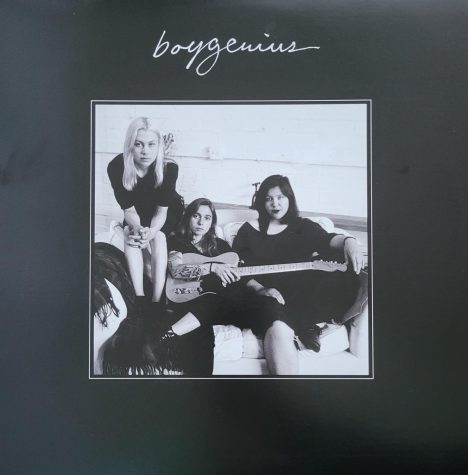 Then in 2018, the group booked a co-headlining tour where they originally planned to record a single or a cover so they could perform something together on stage. But upon meeting to record, they had so many ideas that they produced the boygenius EP. 
While only 6 songs or about 22 minutes long, the EP was a massive success, putting the crew on the map. They climbed the charts, performed on NPR's Tiny Desk, and sang on late-night television shows. The band refrained from creating new work as a group but continued collaborating past 2018. Baker, Bridgers, and Dacus were all featured on Hayley Williams' song "Roses/Lotus/Violet/Iris" from her 2020 EP Petals for Armor II. In 2021, they came back together for their first full performance since 2018 as the headliner of Bread and Roses Presents' annual benefit concert in San Francisco.
The trio would also often be seen on social media, visiting Bridgers in her Los Angeles home, while Dacus reads their tarot cards. 
Outside of their collaboration and friendship, the band stayed busy with solo albums in 2020 and 2021. Bridgers created Grammy-nominated Punisher, Baker released Little Oblivions, and Dacus unveiled Home Video. They all had surprise features in songs on each album and on each other's tours, like Baker's "Favor", Bridger's "Graceland Too" and "I Know The End", and Dacus' "Please Stay" and "Going Going Gone". On January 17, 2022, all of the band members' personal websites were seemingly shut down, stating "404 Not Found". While a new website, "boygenius.store" opened up and stated, "Opening soon". This with a combination of a glitch on the boygenius Instagram account, allowing followers to see all of the new album's song titles, was a confirmation for fans that something big was coming. 
The next day, came a post on the official "xboygeniusx" account stating, "the record is out march 31st and three songs are out now. xboygeniusx.com". Fans had finally received the album cover, date, and three new songs that they had waited five years for. 
The reunion did not come as too big of a surprise to many superfans who followed the band's recent moves. Sneaky fans in Los Angeles caught the trio taking photos together in brightly colored clothing in November of 2022. 
The outfits were seemingly a recreation of a famous Nirvana photoshoot from Mademoiselle Magazine in 1993. 
Furthermore, the band was announced as a performer at this year's upcoming Coachella music festival, before the album announcement.

Now, until March 31st, we boygenius fans have been listening to the three singles, "Emily I'm Sorry", "$20", and "True Blue" on a religious basis, waiting for the release of "Without You Without Them", "Cool About It", "Not Strong Enough", "Revolution 0", "Leonard Cohen", "Satanist", "We're In Love", "Anti-Curse", and "Letter to an Old Poet". 
Many Glenbard South students, besides me, are beyond ecstatic about the new releases. 
Boygenius enthusiast and Glenbard South senior, Lauren Field, is thrilled to see the group live in Chicago, especially since she did not expect a full tour from the group so soon. 
She is also looking forward to hearing the collaboration in their new songs that brings out the best in each artist, as seen in "Salt in the Wound" or "Souvenir", from their EP. 
Superfan and senior Sana Muneer is also beyond ready to see the band live with her best friends in July!