The Glen Ellyn Community Commemorates MLK Day
Every year on January 16th, the legacy of Dr. Martin Luther King Jr. is honored with thoughtful commemoration. King was a fierce advocate for the civil rights movement, as well as an eloquent writer and speaker. 
King's impactful speeches as an African-American church leader and civil disobedience activist were pivotal for the advancement of the civil rights movement, and he inspired sit-ins and marches from activists all across the United States. 
To revere King and reflect on his impact on the furthering of desegregation and voting rights for black people, the town of Glen Ellyn hosts annual days of service and special programs. One such example is the MLK Jr. Day of Service hosted by the Glen Ellyn Park District. 
Located in Ackerman Park on St. Charles Road, the program accepts volunteers of all ages, although those under the age of 14 must be accompanied by a parent or guardian. 
Participants can enjoy a steaming cup of coffee and hot chocolate before helping to cut and remove invasive plants and underbrush contained in the park. The purpose of the program is to boost teen morality and empathy on MLK Day by ameliorating the quality of natural, communal areas. Volunteers can expect to finish the day of service with a snack and nature walk. 
In a similar sentiment of serving the Glen Ellyn community, the Peoples Community Church located on 670 South Lambert Rd encouraged community members to demonstrate their civic participation by honoring the life of King with a workshop entitled "Anyone Can Serve". The workshop took place from 10:30 am to 1:30 pm on Monday, January 16th. During the luncheon, church member panelists will discuss the significance of gestures of service and the legacy of the late Dr. King. 
The program features seven other supplementing organizations, including the DuPage Health Coalition, Unity Partnership, Milton Township Mental Health Commission, Glen Ellyn Human Relations Commission, DuPage Homeownership Center, One Community of Glen Ellyn and the DuPage County Board.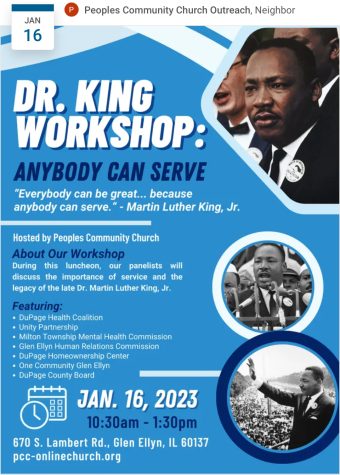 According to the Daily Herald, the Cultural Awareness Commission continues a 19-year-old tradition by hosting a Martin Luther King Jr. Breakfast at Hoffman Estates Village Hall, 1900 Hassell Road, to celebrate the vast achievements of Dr. King.
The College of DuPage will also recognize the life and achievements of Dr. Martin Luther King Jr. with a virtual commemorative video featuring both students and staff, as well as live remarks from college President Dr. Brian Caputo. COD also acknowledges the recipients of their Dr. Martin Luther King Jr. Scholarship each year during the procession, which goes to students with demonstrated financial need or exceptional drive and talent in a particular academic area.
Regardless of location, all of these  annual traditions are opportune chances for Glen Ellyn community members to honor the legacy of MLK Day.