Michelle Obama Returns to Chicago for The Light We Carry Book Tour
On Monday, December 5, former First Lady Michelle Obama touched down in Chicago for one of the final stops on her book tour, The Light We Carry Tour: In Conversation with Michelle Obama. 
Obama's novel, The Light We Carry: Overcoming in Certain Times, was published on November 15, 2022. 
This is Obama's follow-up to her critically acclaimed memoir Becoming, and this new release has already staked its claim at the top of the bestsellers list.
On her website, Obama said, "This book is a collection of stories and practices that have helped me sort through all the challenges and questions that keep us up at night: How do I know I'm good enough? How do I bring myself to the table? How can I overcome my fears? I never thought I would be the author of one book, let alone two. But I've found that writing this has been a way for me to gather my thoughts and find more clarity during this time. So, I hope this book means as much to you as it does to me."
The Light We Carry is inspirational and insightful. Readers and viewers have the opportunity to get to know the former First Lady on a personal level through the memoir, and a story of challenges and perseverance. She tells her  life story within this emotional memoir in hopes of giving light and resilience to readers going through similar hardships. 
"Even when the world feels dark and uncertain," she writes, "we always have the ability to kindle our own light by looking inside ourselves and then sharing it with others." 
Obama was raw and real within the pages of her book, and in front of the thousands of people she presented to during her tour. 
It was no surprise that I absolutely loved her newest memoir, and that it will be one of my favorites of 2023. Obama's first book, "Becoming" is one of the most treasured books on my shelf and it is no surprise that "The Light We Carry" has found its place right next to it. I was thrilled to purchase tickets for the customary nationwide tour Obama does after her book releases.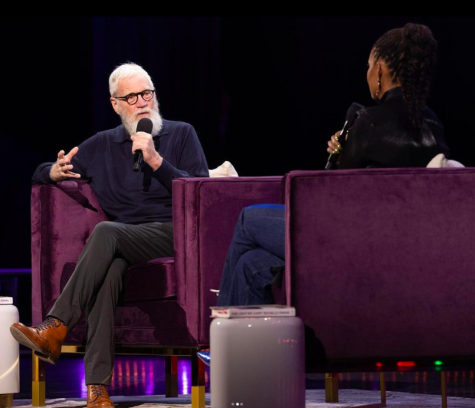 I had the privilege of attending The Light We Carry Tour: In Conversation with Michelle Obama on December 5, and seeing Obama and Letterman onstage together was a true holiday treat. 
This experience was nothing short of life-changing. I appreciated how vulnerable Obama was with the audience and loved how she admitted that she feels despair, anger, and fear as much as the rest of the world; however, she does not let those negative emotions do not stop her from moving forward and achieving her goals. 
Also attending Michelle Obama's book tour on December 5 was Mrs. Colleen Hiles, one of Glenbard South's English teachers. 
Mrs. Hiles remarked that she was halfway through The Light We Carry's audiobook before seeing the show. 
She said, "I loved her before I even went to the show, so I adore hearing her speak.  I listen [to her audiobook] daily on my way to and from school."
Mrs. Hiles's biggest takeaway from the show was how important "slowing down" is. 
"I loved when she talked about how sometimes, especially when you feel overwhelmed, it helps to 'start small.'"  
Obama used the knitting projects she completed during the pandemic to quiet her racing, anxious mind, and Mrs. Hiles strives to partake in the same pensive, calming hobbies.
Mrs. Hiles also admired Obama's vulnerability. 
"[She] admitted that she sometimes feels despair, anger and fear; however, that never, ever stops her from moving forward and achieving her goals."
Hiles recommends this book to students as well. 
"I think it could be particularly beneficial for seniors because they are about to undergo an enormous life transition, and those can be fraught with fear and uncertainty.  [Obama's]  'tool kit' of tricks for overcoming your fears is something we all work on over the course of our lifetimes.  I just love the way she frames dealing with the inevitable hardships we all face. She helps stoke hope, joyfulness and positivity within me, so I feel like she can do that for anyone."
This is a book and experience Mrs. Hiles believes that she will come back to time and time again, whether she needs a guide in overcoming adversity or reminders of hope and courage.