Reimaging Suburban Lawns with the Power of Sustainability
The modern suburban grass lawn began as a symbol of upper-class British wealth but has since become a recognizable mark of middle-class America. These manicured lawns already cover more than 2% of the continental United States. Award winning journalist, Farrell Evans, reports that the fantasy of owning a home wrapped in pristine carpets of luscious lawn arose during the growth of suburbia. Lawns continued to gain popularity as homeowners craved a natural alternative to industrialization. Along with technological innovations like the lawnmower and pesticides came the idea that lawns should be kept tidy and homogenous. Since the mass expansion of suburbs in the 1950's and 60's, these yards have been nurtured by suburbanites, with grass height and other aesthetic requirements enforced by homeowner associations and other societal pressures. 
While the allure of traditional lawns is understandable, it is increasingly crucial that homeowners understand the dangers of invasive lawn species and how to combat these terrors. Even for lawn owners who are not interested in replanting their yards, there are a variety of solutions to fighting the issue that is grass. 
Why is grass a problem?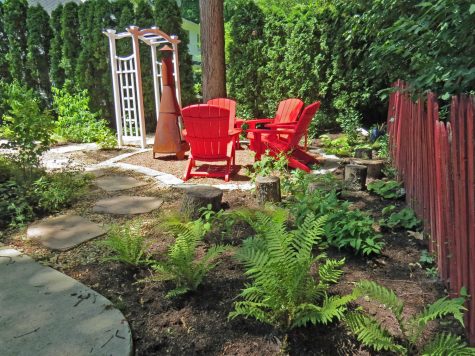 Nowadays, a majority of US lawns are plagued by invasive grasses, especially Kentucky bluegrass. While most of us are used to seeing yards overrun with the plant and may not recognize the potential problems that accompany it, horticultural investigations are finding a vast array of issues caused by invasive grass. Most recently, a study at North Dakota State University discovered that grasslands overrun with aggressive strains of the Kentucky bluegrass were plagued by reduced butterfly diversity, lower variety of plant species, and fewer species of flowering plants. 
In recent years, many experts have become more vocal about moving away from the lawncare status quo.
Denise Sandoval, the owner of Good-Natured Landscapes LLC, a local sustainable landscape design business, further emphasizes the trouble with manicured lawns, stating that they are high-maintenance and drain precious resources. Denise goes on to say that lawns also support very little wildlife, and studies show some lawn chemicals are harmful to humans, pets, wildlife, and waterways. 
Standard grass lawns are also debilitating to biodiversity, which is where planting a variety of other native species can come into play. Without biodiversity, Kara Holsopple, a regional reporter on environmental issues, writes that the intricate ecosystems that exist on our planet cannot live in balance, including human life. 
However, moving your lawn doesn't have to be an exercise in existential crisis. Sandoval highlights the idea that if homeowners want to keep some areas of lawn, they can – they just need to change how they maintain them and the areas around their homes should look. 
One major idea to consider when looking for new, sustainable ways to maintain a yard is "alternative landscaping".
What is alternative landscaping?
Paige Boyle is a PhD Candidate at Utah State University, where she studies turfgrass ecology. She explains that alternative landscaping is a term that encompasses any non-turfgrass yard cover. Because this method provides a variety of solutions for different lawn owners, depending on their region, their ability to maintain plants, and more, there is no one-size-fits-all answer. Alternative lawns can feature soil, mulch, native plants, gravel, and a plethora of other materials. 
The Glenbard South Earth Action Network's president, junior Isha Shah, considers alternative landscaping to be a great option for people who want to save water and money. In addition, she says that unconventional lawns cut out the need for lawn mowers, which can create an astounding eleven times more pollution than a new car!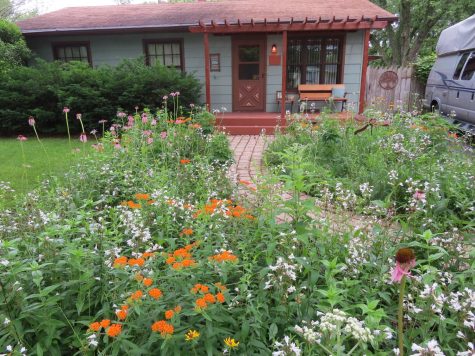 By creating a sustainable landscape around their home, homeowners can conserve water, which is growing increasingly important as water shortages arise, explains Shah. The benefits of water conservation also include saving the energy that would be otherwise needed to purify, heat, and pump water to the home. Using less outside water also retains more natural water in our ecosystems and helps to keep wetland habitats livable for animals like otters and fish.
By conserving resources and creating an unconventional lawn, homeowners not only create homes for critters in the water, they also create havens for pollinators and their needs. 
Constructing an avant-garde lawn with flowering plants will attract pollinating bees, butterflies, beetles, and more. Their pollen and nectar are excellent for pollinators, such as honeybees, as opposed to grass, which is essentially a food desert. According to the US Department of Agriculture, the pollinators that benefit from these plants are beyond integral to the continued existence of 80% of all flowering plants. Local gardener and shameless bee enthusiast, Lauren Price, exclaims, "Save the bees!" when asked about her thoughts on alternative yards. Longer grasses will also provide shelter for animals like frogs, newts, hedgehogs, and lizards. Business owner Sandoval says that clients who utilize avant-garde lawns frequently tell her about the new wildlife species visiting their yards.
As an expert with a degree in landscape design horticulture and a volunteer at a prairie restoration site, Sandoval calls for more people to grow native plants in their alternative lawns, in order to support declining wildlife that depends on native plants for food, shelter, nesting sites, and clean water. She emphasizes that the natural world is so interconnected with us that any loss or decline in native habitats can have a profound impact. 
She further explains that native plants are also better adapted to our local weather extremes, which are occurring more often. They also help improve air quality, reduce run-off, decrease soil erosion, and require limited-to-no irrigation or fertilizers.
Even apart from ecological concerns, the variety of colors and textures seen in alternative lawns is also a factor that appeals to many, such as Lorenza Foster-Simbulan, an enthusiastic Earth Action Network member. When viewing images of local non-grass yards, she exclaims, "Stunning! They are much better than dead grass and weeds, rather they add to the ambiance of a home!".
Outdoor sports enthusiast Ben Zima agrees with Foster-Simbulan, saying he appreciates the aesthetics of alternative lawns and does not mind if others plant them. However, he also emphasizes the need for a variety of approaches and spaces, acknowledging that a standard grass lawn is still ideal as a wiffle ball field.
While the inevitable backyard battle between bees and wiffle balls will rage on, the question remains: given the benefits of alternative lawns, what steps can be taken to create a more eco-friendly home environment?
How to accomplish an alternative lawn
The array of benefits that come with alternative lawns, leaves homeowners wondering: what steps can I take to create a more eco-friendly environment around my home?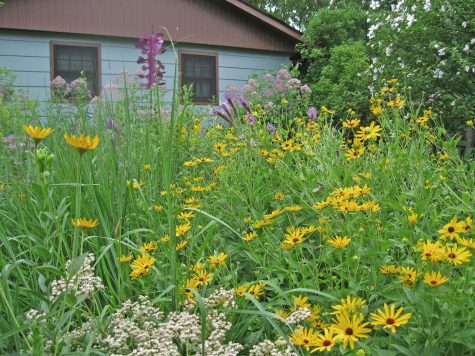 Sandoval, who has been learning from other like-minded nature lovers for over 20 years, recommends that people begin by participating in educational workshops and talks given by local organizations like The Conservation Foundation and Wild Ones Greater DuPage, communities working to preserve biodiversity. 
Visiting nearby eco-friendly yards and spending time outdoors, especially in local natural areas, alongside learning about native plants, wildlife, and watersheds, is another valuable step. She says that learning about the natural world is an important action because we value what we understand and love, while we reject or fear what we do not.
Next, Sandoval recommends that homeowners study their existing landscape and use this information to start a small garden with a few native plants or hire someone who has experience in native plant design. 
Some up-and-coming native species for Illinoisans include tall grasses like the Big bluestem and Switchgrass or short grasses like the Little bluestem, Prairie dropseed, and Northern sea oat. These grasses can be great additions to any yards in the "Prairie State" to which they are native. Native wildflowers like the Allium textile, White yarrow, and Spiderwort can also be stunning and functional additions to a lawn.
While these first steps can seem daunting, especially to first-timers, many local suburbanites are taking the plunge.
Niel and Marilynn Ringquist are Glen Ellyn natives who live minutes from Glenbard South. Mr. Ringquist, a former attorney, has cultivated a Conservation @ Home certified yard, full of native wildflowers. They began their lawn journey in 1994 after attending a lecture at the College of DuPage sponsored by the Wild Ones. Since then, they have been incrementally decreasing their grass square footage, replacing it with a variety of plants, like the common milkweed, a staple for the endangered monarch butterfly.
One of Ringquist's favorite native flowers is the cup plant (Silphium perfoliatum). He claims that the flowers are one of the easiest plants to grow, often reaching heights of 7 feet! They also attract a variety of pollinators like butterflies, bees, and moths. Their leaves hold water like little cups, so birds also come to cup plants to drink.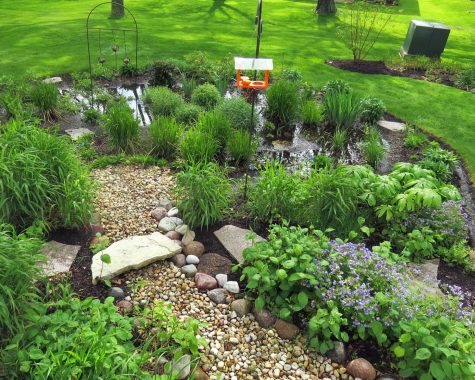 Outside of planting native plants to replace grass, there are other steps homeowners can take to create a more sustainable area around their home. Rain barrels are a popular way to collect free water for reuse and landscaping. Having a composting bin for leaves and other organic materials can also serve as a supplement to a garden while reducing waste. Something all lawn owners can do is increase their mow height to about 3.5 inches to reduce how often they mow and need to water.
While all these steps are beneficial to both humans and nature, garden-lovers need to stay vigilant. When planting native species, make sure to learn how to maintain a native plant garden, since unattended weeds and invasive plants can become a problem. Another key step in the process is to not grow discouraged. For anyone interested in creating a sustainable lawn, Ringquist emphasizes that it is not an overnight process, as seen in his nearly 30-year-long journey. 
While societal pressures may coerce many homeowners into keeping a regular grass lawn, community members should keep in mind Denise Sandoval's "kind to the Earth" landscapes. Take gradual steps to support all living things sharing our landscapes, protect resources like water, and work to reduce climate change. Like the Wild Ones say, "If the only thing that moves in your yard is grass, you have a problem".