Wednesday Addams: A Cultural Reset
The Addams Family was originally released as a satirical television series in 1964, following a wittily gothic lineage of eccentric misfits. The series dissected the mystical lives of Morticia and Gomez Addams, and their endearingly rowdy children, Wednesday and Pugsley. The unabashedly grotesque characters immensely captivated audiences, prompting multiple revamped recreations of the series in the subsequent decades. Recently, Netflix furthered the legacy of The Addams Family with the release of Wednesday, a supernatural spin-off of the classic series, following the archaic, rebellious Wednesday Addams.
When forced to attend the paranormal boarding school, Nevermore Academy, the sarcastically deviant Wednesday Addams becomes possessed by transcendental and existential visions, and encapsulated by rivalry and mystery. Tormented by the vile murder of a classmate, Wednesday grows obsessively entranced in her investigation of a monster plaguing the intricate, botanical woods of Nevermore.
Wednesday is directed by the prestigious Tim Burton, and stars the brilliant gen-Z actress, Jenna Ortega, as Wednesday Addams. The whimsically cinematic series gained immediate traction on TikTok as users admired and re-enacted a dramatic dance routine flawlessly curated and performed by Ortega's character. In an interview on The Tonight Show with Jimmy Fallon, Ortega explains that while choreographing the sequence she researched "archival footage of goth kids dancing in clubs in the 80's," and "videos of Siouxsie and the Banshees," a rock band with a punk aesthetic. In addition, Ortega learned fencing, cello and German for her role as Wednesday Addams.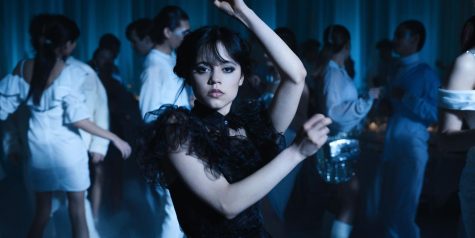 An article by Variety elaborated that Wednesday "was watched for nearly 6 billion minutes during the Nov. 21-27 viewing window, during which it was only available for the last five days," ('Wednesday' Debuts With Nielsen's Second Biggest Streaming Week of All Time). Overall, Wednesday is a quirky, bingeable series that relevantly critiques social norms, riddled in mysticism and wit.