Midnights by Taylor Swift: an album bejeweled with hits
Swifties across the globe were left reeling after Taylor Swift announced that her new album Midnights would be released on October 21, 2022. 
With no single released prior to the album, fans crafted theories of what the tracks would be titled, what genre the album would be and the stories told throughout the album.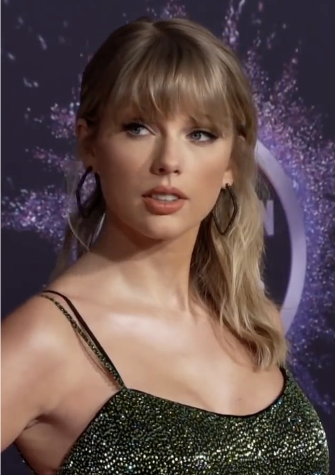 Over the span of a few weeks, Swift announced the titles of all original 13 tracks on Instagram and Tik Tok in short videos, cleverly called Midnights Mayhem with Me. 
On October 21st at 12AM ET, Midnights dropped. Swift promised a 'chaotic surprise' and sure enough, at 3AM ET, Midnights (3am Version) dropped. The 3am Version of the album included 7 additional tracks. 
On the whole, listeners did not know what to expect from the mysterious album. The midcentury furniture showcased and filters in her photoshoot led fans to believe the album would have a grungy 70s sound. 
In actuality, Midnights is a sponge that picked up many different sounds from almost all of her previous albums. Highlighting sleepless nights throughout Swift's life, this album's genre and track topic has a very large range but somehow still manages to feel like a cohesive album. 
Swift broke many records with Midnights and by far the most notable is that she is the first artist ever to hold all ten spots on the Billboard Top 10 list. 
These ten fan favorites are Anti-Hero, Lavender Haze, Maroon, Snow on the Beach, Midnight Rain, Bejeweled, Question…?, You're on Your Own, Kid, Karma and Vigilante S***.
Anti-Hero (#1 on Billboard Top 10)
This track quickly rose to number 1 on the Billboard Top 10 and was the most streamed track from Midnights. What makes Anti-Hero 18 million streams better than Lavender Haze? Anti-Hero uses a genius combination of relatable lyrics and appealing synth. Unlike many of her other songs, Anti-Hero is solely based off of Swift's internal struggles. 
Lyrics like "I'll stare directly at the sun, but never in the mirror" make Anti-Hero one of Midnights' most universally relatable tracks. 
Lavender Haze (#2 on Billboard Top 10)
This iconic album opener starts off with the lyrics "Meet me at midnight" which are bound to give any listener the chills. The back track has a strong beat that keeps the song pushing forward. Right off the bat, Lavender Haze has its listeners dancing to the floating vocals and synth.
 This track sets the scene for the other tracks, and listeners are immediately aware that Midnights would be more similar to Swift's Pop albums than her most recent albums, Folklore and Evermore.
Maroon (#3 on Billboard Top 10)
Coming off of Lavender Haze, Maroon takes on a much more relaxed and slow feeling. With simpler instrumentals, the focus of Maroon is put on the lyrics which read like poetry. 
Maroon paints a story in the listener's mind with lyrics such as "When the morning came, we were cleaning incense off your vinyl shelf 'cause we lost track of time again" and "The one I was dancing with in New York, no shoes". 
Maroon's on-theme story and poetic imagery are just two of the reasons this track was #3 on the album and Billboard's Top 10. 
Snow on the Beach (ft. Lana Del Ray) (#4 on Billboard Top 10)
Snow on the Beach starts out with sparkling instrumentals which mimic what one would expect snowfall to sound like. This track was one of the most anticipated tracks on the album, but many fans were left disappointed with how little Del Ray was actually featured. 
Snow on the Beach also gets very repetitive with lyrics and notes especially towards the end, which leads to listener boredom. 
Midnight Rain (#5 on Billboard Top 10)
Midnight Rain starts out in a startling fashion with an unsettling deep auto tuned voice in the first few seconds. The intro causes a lot of first time listeners to skip, but once the verses start, Midnight Rain is just as sing-able as the other Midnights tracks. 
The electronic pulsing and lyric repetition make for a perfect pop song that tells the story of the right place, right time but wrong person. 
Bejeweled (#6 on Billboard Top 10)
Surprisingly, Bejeweled was only #6 on Billboard's Top 10 list. Bejeweled is undoubtedly one of the most pop songs on Midnights. Shimmery background instrumentals paired with glorious harmonies create an angelic song that fits perfectly with its title. 
Its strong back beat makes any listener tap their toes and spurred the "Bejeweled Strut" TikTok trend. 
Bejeweled is very reminiscent of 1989 and Lover which many of Swift's older fans appreciated. Bejeweled is definitely the crowning jewel of Midnights and provides perfect balance between upbeat tracks and mellow tracks within Midnights.
Question…? (#7 on Billboard Top 10)
Question…? was an unexpected favorite on the Midnights album. The track has a mellow accusatory tone that makes it perfect to either scream in the car or listen to as background music. Much like Midnight Rain, Question…? has a strong pulse to keep the song moving, but uniquely has several buildups to glimmering beat drops. Question…? Undoubtedly earned its spot in the top 10. 
You're on Your Own, Kid (#8 on Billboard Top 10)
You're on Your Own, Kid rivals Anti-Hero for lyric relatability. Lyrics like, "make the friendship bracelets take the moment and taste it", "you've got no reason to be afraid" and "you're on your own, kid you always have been" create a sad nostalgic mood but also make the listener feel heard and comforted. 
You're on Your Own, Kid is just one of the Midnights tracks that have spurred TikTok trends, but this trend of sharing stories of growing up and loss of friendship is by far the most sentimental.
Karma (#9 on Billboard Top 10)
There's no surprise Karma made its way into the top ten list. Karma's lyrics are very similar to those found on Swift's Reputation album, but the sound of the track is much more upbeat and shiny than Reputation. Karma is fast paced with relatable lyrics which makes it perfect for fans to sing aloud to. Once again, Swift reminds us of her poetry skills with lyrics like "Karma's a relaxing thought, aren't you envious that for you it's not?" Karma's strong beat makes it another danceable hit on Midnights.
Vigilante S*** (#10 on Billboard Top 10)
Vigilante S*** slices its way into the top 10 with its heavy bass, sultry vocals and powerful lyrics. This track is more similar to Reputation than any other track on Midnights. While the sound of this track is very Reputation-esque, the lyrics are very reminiscent of no body, no crime from Swift's Evermore album. 
The lyrics tell a story of infidelity and taking rightful revenge. Swift is known for the bridges of her songs, but Vigilante S*** takes the cake. The lyrics "Ladies always rise above, ladies know what people want, someone sweet and kind and fun, the ladies simply had enough" paired with haunting vocals, provide an excellent bridge that contrasts with the grungy feel of the rest of the track.
Midnights is a record breaking album that offers a wide array of sound, allowing fans of any genre to enjoy the masterpiece that is Midnights.