Learn to Soar with the Cast of "When She Had Wing"
On September 27th and 28th auditions were held for the Glenbard South's winter play, "When She Had Wings" written by Suzan Zeder. 
The director, Ms. Jessica Keuth-Rahtjen, along with Ms. Stephanie Wallace, Ms. Ellen Hill and Ms. Kelli Lawrence selected seven actors to be part of this production. Over the next two months these actors have rehearsed non-stop to bring this show to life.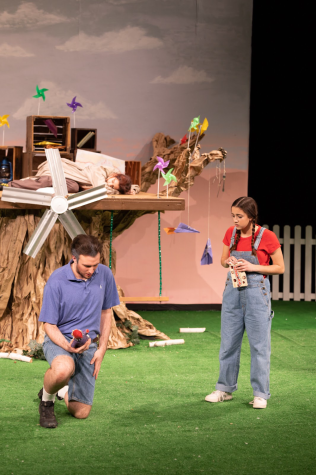 Summary
"When She Had Wings" focuses around a nine year old girl, B, who attempts to learn to fly before her 10th birthday. 
Sophomore, Danielle Allaway, who played the main character B, said, "B has sort of given up on flying because she's dealing with so much, until she meets A. No one really knows who or what A is, including A herself." 
Character Analysis
A, played by senior Alina Dukala, was forced to communicate for most of the show without saying real words. Forming a believable connection between characters when one is not able to use words to communicate is a challenging feat but senior, Xander Mills, who played The Man, felt both Dukala and Allaway did a great job. 
"My favorite part of the production is the scene between Alina and Danielle when they finally meet," Mills said. "They are just learning about each other and immediately click as characters."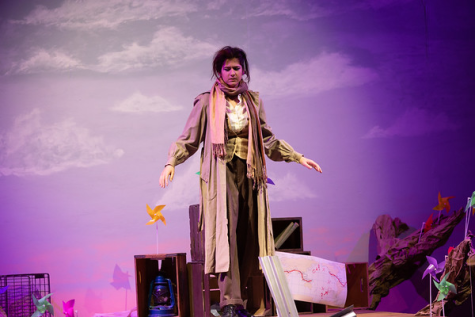 Similarly to Dukala, Aniyah Nelson, a sophomore who played the Wingman and Lookout, also had a role that depended heavily on body language. 
"It's fun learning to depend on my facial expressions and body language instead of words," Nelson said.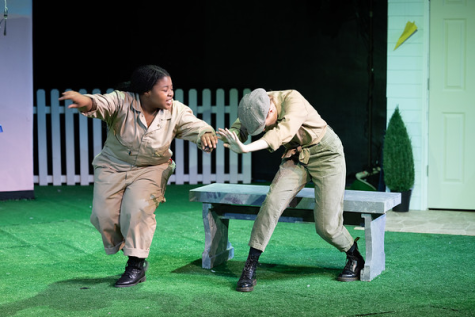 What Makes "When She Had Wings" Special
Between the props, sets, lights, sounds, and costumes, this show had a lot of elements to it. Allaway said that's why this show was so remarkable . 
"Seeing everything come together has been my favorite part by far," she said. "Seeing each set piece, prop, costume piece, all the lights, the sound effects, and each scene come together has been magical." 
The actors also worked to form a connection with this production. 
"We really dug deep into this show and got to know the characters, the plot, and the meaning of this show," Allaway added. "That was something I really appreciated because there is so much to unpack in this play."
Mills believed that "When She Had Wings" was more than just a show. "This show has a little of everything and is a work of art," he said. "Both the cast and crew put in so much work."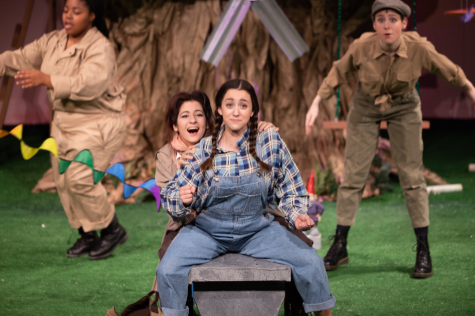 "When She Had Wings" was different from many other plays, especially those that Glenbard South has done in the past.
Nelson commented that, "It's a smaller cast compared to other shows I've done." With only seven actors this was a significant  drop from the cast size of the last play, "Love/Sick" which had 18 actors.
Allaway also felt that this show was different.
"When She Had Wings is like no other show I've done," Allaway said. "It deals with some heavy topics and it's been a challenge to find that balance between lighthearted but also really deep. I think it has really helped me grow as a performer."
How "When She Had Wings" Appealed to the Audience
"When She Had Wings" was performed in the little theater at Glenbard South on November 17th, 18th, and 19th.
"This show has affected me in such a positive way and I think just by coming to see the show can give a similar effect to the audience," Allaway said. "It has changed me and helped me grow in a ton of different ways.
Nelson felt a similar way. "It's a show that talks about issues but doesn't focus around them," she said. "Instead it helps show how to overcome these issues with imagination and hope."
"When She Had Wings" brought so many people together to create an amazing story. Allaway said, "If I could describe the show in one word, it would be 'special'."