Behind the curtain of 'When She Had Wings'
Through the 17th, 18th and 19th of November the Glenbard South theater department performed the play,  "When She Had Wings". This magical tale tells the story of a nine year-old- girl who needs to remember how to fly before she turns ten. 
Build/Paint and Lights/Sound Crew 
Glenbard South's 'Backstage Badgers' crew members, created a working treehouse for the performance, painting the back wall of the little theater to match the play's ambiance. 
According to many crew members, the main struggle of constructing the set was the treehouse. The treehouse had to have one, large, centrally located support, unlike past sets that had supports on the four corners. Having one support in the middle opens up the possibility of the platform being unstable. 
For lights and sound crew, "Making sure everything looked great and went together [was] definitely a challenge for this show" said Lizzie Steele, Stage Manager.
Costume Crew
"When She Had Wings" is a treat for anyone involved in costume crew. During the last  Glenbard South theater production, Love/Sick,  actors used clothes from their own closets for their costumes and there were no costume changes throughout the show. In "When She Had Wings", costume crew members saw their ideas on stage. As well as assisting actors with their makeup and costume changes.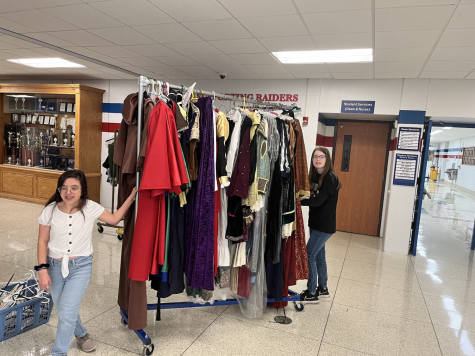 "We have fun" says Lizzie Steele, the stage manager, "I know it might seem like a serious job… but we truly have fun in crew more so than what people see".