Raider Girls Golf 2022
The Glenbard South varsity girls golf team concluded their 2022 season this past month, with admirable accomplishments in the Upstate 8 conference. Led by Head Coach Kevin Berner and this year's seniors, the team proved to be very strong and emerged with great success on and off the course.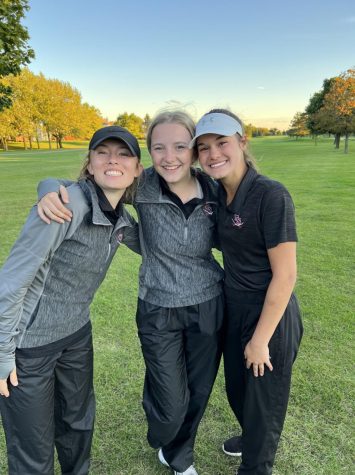 Following the strict restrictions of COVID-19 in the previous year, the team was able to resume normal play and participated in many invites outside of conference. This year they traveled to Willowbrook, Wheaton North, Benet Academy, Glenbard West, and Rosary to compete in matches against the schools' well-rounded teams and improve their level of play.
The team's many hours of practicing evidently paid off at conference as the varsity team performed well as a whole. Unfortunately, Glenbard South's varsity team lost by one stroke to South Elgin for the conference title. However, a major accomplishment came out of the match as the team shot a 362, setting the record for the lowest score the Glenbard South girls team has shot at conference. In addition, one of the team's top-performers, junior Christina Stuart, individually won conference by shooting an impressive 84, the lowest score in conference. When asked about her proudest moments from this season Stuart expressed, "I'm most proud of the support from our coaches, they have nothing but good intentions for the team. I'm also so proud that I was able to win the conference, it was such an exciting moment." Following the conference match the team headed to Regionals, where the girls faced a difficult course in Hugh Creeks, Elburn. Unfortunately, the team's overall score did not secure their spot in Sectionals, but junior Ella Zeman's play stood out and her score of 98 got her very close to making Sectionals. It seems that the golf team has a positive outlook for next season as many of the juniors on the current team are projected to go even further in Regionals.
Although golf is a highly individual sport, Glenbard South's girls golf team not only improved their skills this season but managed to create a wonderful team environment and build meaningful relationships off the course. The varsity team this year was made up of six juniors and three seniors, and the bonding between the upperclassmen contributed to the fun, exciting season. In an interview with senior Kara Lange, she stated, "Each Friday we take a break from golf to play some sort of team building activity. We would go get ice cream, go mini golfing, or play sand volleyball. My favorite memory was when we played ultimate frisbee at the stadium as a Fun Friday activity. We all had a lot of fun." Additionally, Christina Stuart recounted some of her favorite memories and traditions of the team, "An amazing tradition is green jacket night, we have a big chili cook off and cry that the seniors are leaving. It's amazing". All in all, the friendships and memories coming out of this year's golf season represent the overall girls golf program at Glenbard South as being an excellent experience for golfers of all levels.