Gender Equality Club
"It's better that we make everyone feel included because you really don't know where everyone is coming from," says Francesca Jarvis, leader of the Gender Equality Club at Glenbard South.
What started as a feminist club a few years ago has turned into the more inclusive Gender Equality Club. The Gender Equality Club meets about 1-2 times per month in room 15. They talk about a range of topics such as LGBTQIA+ education in schools, the National Day of Missing/ Murders Indeginous Peoples and even female serial killers. 
Gender Equality Club holds discussions "based on the gender inequalities in the world and social norms." Jarvis noted that, "a lot of more social issues that are prevalent to our age and for the future". The club is all about sharing different perspectives and learning new things. "It's a lot less intimidating than it sounds," Jarvis remarked. "We have such fun topics that we talk about. It's such a relaxed community." 
The Gender Equality Club holds student driven discussions once or twice a month about social issues, social norms and stereotypes. As some students may be intimidated to jump into discussions they should know that students  are welcome to just sit and listen to the discussions. However  the club is a respectful and safe space to share ideas and everyone is encouraged to participate. 
Students are welcomed, if they have an important issue, to talk to Francesca Jarvis or Ms. Raymond to help run a meeting about their topic. Ms. Amanda Raymond summarized it perfectly as, "Discussions and service that deal with gender inequalities"
In addition to discussions, Gender Equality Club strives to have a greater impact on the issues they discuss through service. Every year, the Gender Equality Club holds a menstrual hygiene product drive. To raise donations, they  pick a neighborhood and drop off bags to the neighbors to fill with menstrual hygiene products. Later, the club picks up the bags and donates the products to the People's Resource Center. Gender Equality Club's record is 20,000 products in one drive! 
While access to period products  might not seem like an issue, according to Medical News Today, "Research found that almost two-thirds of [of people who menstruate] in the U.S. with a low income could not afford menstrual products in the last year, while nearly half sometimes had to choose between buying food or menstrual products." It is estimated that 16.9 million people who menstruate in the U.S. live in poverty.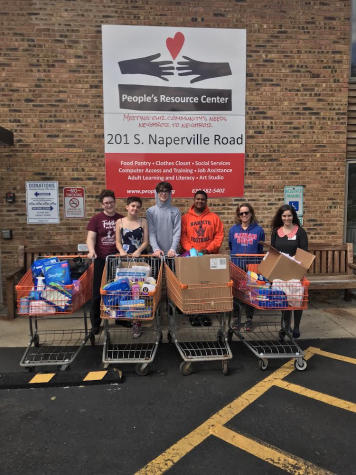 The Gender Equality Club's goals this year is first, to expand. They want to gain a larger community with students from all different backgrounds. This year they are  planning to write letters to government officials, and have students sign petitions and get involved in local issues. 
Gender Equality Club would also like to join with PRISM club to discuss issues that affect them both. "We are very open to all decisions, choices and feelings," says Ms. Raymond.