Latinos Unidos
Hispanic Heritage month has begun and will continue until October 15th. During this time it is important to look at the Hispanic culture within the Glenbard South Community. One piece of this culture is the  Latinos Unidos club, which has been revitalized this year with sponsor Ms. Rebecca Gauna. 
Latinos Unidos is a club dedicated to celebrating and learning about Laino culture. Ms. Gauna shared that the club is, "overall a really nice place to connect with friends and people who share a part of your identity." But further elaborated, "that being said I'm not Latina you don't have to be latino to be in Latinos Unidos, it's anybody who wants to learn more and celebrate culture and just get involved at school." 
The club has big plans for the 2022-2023 school year. As Ms. Gauna was the sponsor of a Latin club at her previous school; she has a few ideas to bring to the table for Latinos Unidos. "We had different events at the school, we held cultural assemblies and we did a Day of the Dead event for families." Ms. Gauna also shared that in addition to holding events they "…did a bunch of field trips." 
"We were in Chicago so we went to different Latino neighborhoods around the city and did a mural walk. For another field trip we ate food from a specific country in Latin America." Further she hopes to bring in guest speakers and find ways to volunteer in the community. 
Ms. Gauna wishes to bring these experiences to Latinos Unidos while catering to the interests of the students. 
"And students always want to do food but I want to know if they're interested in art or literature or movies or whatever they want to learn more about," said Ms. Gauna. 
Student centered is the way the club is run from the activities Latinos Unidos plans on doing to the way membership is treated. "I know GBS kids are involved in a bunch of clubs and groups and they can come whenever they're free, the more the merrier," said Ms. Gauna.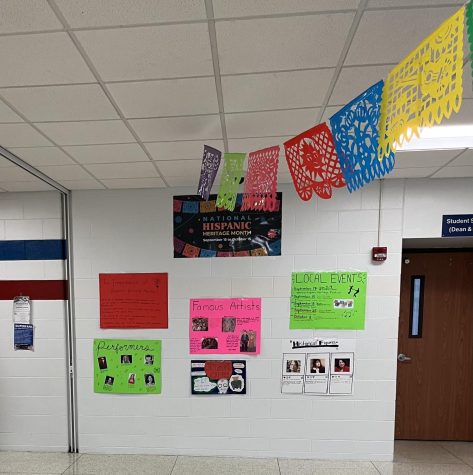 Currently, for Hispanic Heritage month Latinos Unidos has partnered with Student Equity Council to decorate the wall in front of the dean's office. The wall will highlight Latino leaders, Latino artists and performers, Latino historical figures and local events commemorating the month. 
To join Latinos Unidos contact Ms. Gauna at [email protected].