Season Outlook: Girls Volleyball
Bump, set, swing! That's right, volleyball season is back and the Glenbard South Raiders are getting ready for another exciting season. This 2022 season has many games in store as Glenbard South's program has returned with sizable underclassmen participation. Volleyball fans can look out for five teams playing this year, including Freshman A and B, Sophomores, Junior Varsity, and Varsity.
Varsity, consisting of two freshmen and four sophomores, is approaching their season with a fairly young team. When asked about his outlook on the team, Varsity head Coach Chad Grant said, "We will be very young this year, we will need to develop into a strong defensive team if we are going to be successful. We also have a lot of work to do with our serve receive."
With the goal of winning the conference in mind this year, the team must work hard together and keep a positive attitude on the court to overcome their older opponents. Glenbard South already has many games under their belt, mostly against out of conference teams like Lake Park, West, and Wheaton Academy. Their first conference victory against East Aurora took place on August 30, where they won the first set 25-15 and finished the second set with 25-8. Starting off a season with a conference win is always a necessary reassurance of what the team is capable of.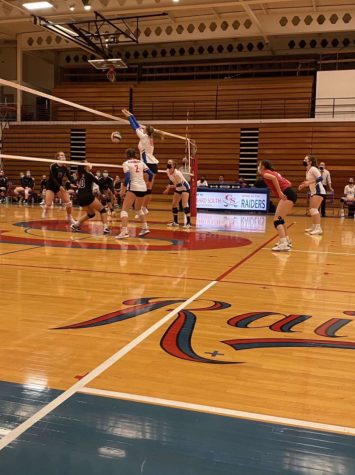 The other levels of Glenbard South volleyball have found similar success to varsity, specifically the junior varsity team that has also played numerous matches to start off the season. Head Coach Brittany Palmer has been coaching the JV team at South for the past two years and does an incredible job of leading the team as a whole. This way of leading was evident on the court in the match against conference team East Aurora where JV came out with high energy and passionate effort. The match ended with the first set score 25-20, and second set score 25-21, where serving pressure and dynamic defence pulled JV through to a massive win.
Although it is so early in the season and results are difficult to predict, it seems that the volleyball program's efforts and gradual growth will allow for an exciting, watch-worthy season. It is crucial for teams to build chemistry and a driven attitude to play to the best of their ability. Volleyball is an intense sport with many cheers and chants and South is looking for students, parents, and staff to come out and support the teams. Loud, encouraging crowds play a substantial role in a team's success, especially in this sport. Fans can find information about the team and the volleyball schedule in the Athletics section of the Glenbard South Homepage (https://il.8to18.com/glenbardsouth/home). Go Raiders!