Boguslavsky Twins Set Course For Global Skating Competition and Beyond
When they were six, Anne and Liza Boguslavsky received a Christmas present that would change their lives forever. Their gift, two sets of rollerblades, did not seem like much at first, merely casual entertainment. In the end, however, it sparked a life-long passion that would later guide the sisters through victories at countless skating competitions, and eventually to the 2022 World Skate Games. 
For as long as they can remember, the twins have been skating. Describing her humble beginnings, Liza said, "We just wanted to learn how to rollerblade so that we could go out as a family and have fun, so we took [skating] lessons at the Lombard Roller Rink. Eventually, we started taking private lessons and competing. Before we knew it, we were actually doing it."
Years and years of practice propelled the duo to nationals. After placing first for artistic roller skating in July of 2022, the pair advanced to Worlds, an annual competition which draws in thousands of the very best skaters from across the globe. In October, they will fly to Buenos Aires to make their debut as Worlds competitors. Both fifteen, they had only recently become eligible to compete this year.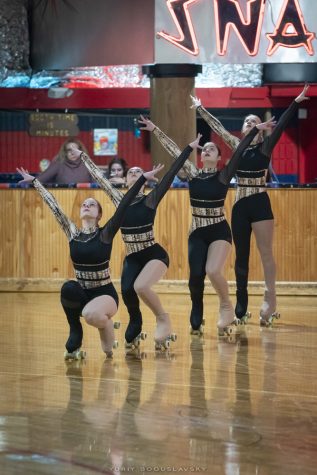 Liza described her family's reaction to her qualification. "My parents cried," she recalled, smiling knowingly. "They are immigrants from Moldova and Belarus. They were saying, 'I cannot believe that we, as immigrants, have our kids representing the U.S.' I think that was the biggest moment for me."
The Boguslavskys perform alongside two others, forming a quartet of friends. 2022 marks the first year that Worlds has allowed juniors-skaters aged fifteen through seventeen-to participate in a quartet. Anne and Liza's team is the sole representative of the United States within the realm of junior quartet skating. According to the sisters, this genre of performance is fairly lawless. "You can pretty much do whatever you want," Liza explains. "The point of quartet is to look cool, to tell a story and, obviously, to be synchronized." Performers of this style are typically characterized by extravagance: intricate props and eye-catching costumes. Anne and Liza themselves are adorned in frills and sparkles for the majority of their competitions.
Despite their extensive history of success, Anne and Liza recognize that their sport, like any other, has its hardships. Now that their quartet is hurtling towards unfamiliar territory, the pressure has only escalated. Liza confessed, "It is very stressful for everyone because this is a very high-stakes competition. It is the biggest one we have ever had to do. We are definitely working hard. You have to, because it takes so long to synchronize things exactly, especially with four people. At a certain point, you just get so tired of coming to practice." At times, this exhaustion can have serious consequences. Anne added, "Near the end of the season, everybody is crunching really hard. Even if you have been building your strength, you just start burning out."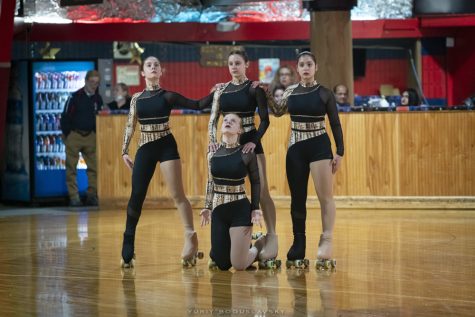 Even so, Anne and Liza always find reasons to continue doing what they love. Anne, for instance, can always appreciate the unique sense of community that each competition brings. "It is such a special environment, a building full of people who love this sport. I feel like I can learn a lot from it," she remarked.
Of course, life goes on after Worlds, and the twins are not slowing down one bit. "We have a ton of stuff planned," Anne promised. "I really hope that we keep coming back to this, but also, I want to go solo." Although qualifying for Worlds is their biggest achievement so far, the prodigies have even more ambitious ideas for the future. They have competed individually before, but now, with a taste of Worlds, they aspire to qualify again next year in their solo events. Elaborating, Liza said, "Last year, I got third in nationals in my [solo] event and that was probably the biggest moment of my life because I never thought I would be able to make it that far. I still have that medal up in my room. It is one of my most prized possessions." She continued, "I need to go to Worlds solo. That is my ultimate goal." If their past triumphs are any indication, they will return to Worlds. Anne and Liza Boguslavsky clearly have big dreams, and this is only the beginning.