Marching Into a New Year of Music
The favorite tunes of Glenbard South are back as the 2022 season starts for the Glenbard South Band. Beginning  the year with marching, and preparing for a later concert season, band has plenty of showcases planned throughout the year.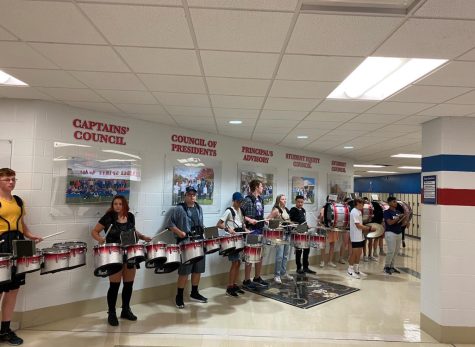 Already the entire band: concert band, symphonic band, and drumline, has worked to assemble and improve their marching talent. 
Arriving at school early during the first week of August, the musicians, new members and old alike, reviewed the fundamentals of marching, creating the basis for their 2022 Halftime show. During these rehearsals, students also participated in the fifth ever Band Olympics. This year, sections competed in their own chant creations, limbo, hula hooping contest, water balloon toss, and dodgeball.  Ultimately leaving the saxophone section to be crowned the winners. 
Band's percussion section, known as Drumline, welcomed students back to the halls of South the first day of school on August 10th. They welcomed parents visiting the school for curriculum night September 1st., to showcase their talents. 
Displaying their great Raider pride, band helped bring school spirit to the first in person pep rally in over two years. Later the same day, they gave their first halftime performance at the opening home football game.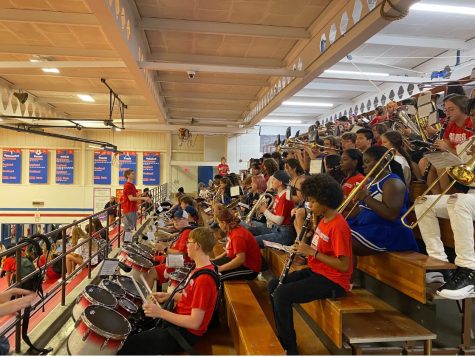 After just a few weeks of practice, spectators at the varsity football game watched the marching raiders form shapes such as diamonds, circles, and stars on the field. All while playing the music of the Rolling Stones. The three marching tunes include, "Get Off of My Cloud", "Jumpin' Jack Flash", and "(I Can't Get No) Satisfaction". Accompanying these tunes, is one selected pice each game played for the Dance Team, and another for the Color Guard. These can be heard at every home varsity football game this fall, along with music played from their very own band stands section next to the Superfans.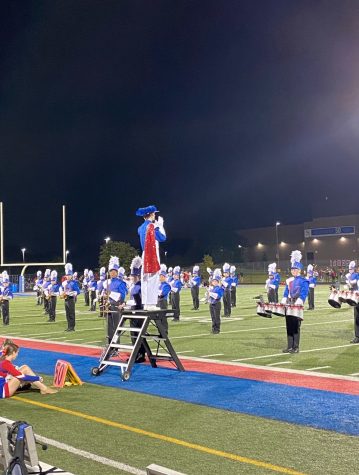 Band is not just about playing and performing, it's a community. When asked to describe the atmosphere of band, Sophomore and trombone player Grace Bittlingmaier could only describe it as, "It's a fun time". New member Zach Cooper said he is looking forward to gaining more and better experience as a musician. Junior Dominic Costello reflected upon how band, "helped me find comfortable people and find myself". 
Mr. Wallace, South's band director, pointed out how this year's band is ready to take on the challenges ahead. He explained that last year close to 60% of band members had little to no marching experience, whereas this year that is down to a normal 25%, which will allow for more development. He continued with that he knows this year's band is ready for the challenges that will come with the new great year ahead.
Madelyn Weber, senior french horn player, added that she looks forward to, "having fun while playing music as a senior".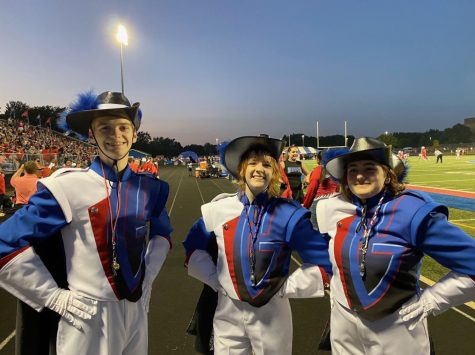 All of the band's marching tunes will be presented Tuesday, October 25th, at their Marching Band Revue concert. Additional concerts include the Holiday Band concert on December 8th, the winter band concert February 23rd, and Spring band concert April 27th.