Best Summer of 2022 Vacation Spots
With finals around the corner, many students are looking forward to the upcoming summer break. As a break from the constant stress of school, summer is a fantastic time to decompress and unwind. Especially with the various hectic responsibilities of summer, vacations are always appreciated. Besides the relaxing aspect of breaks, there are also various mental and physical benefits, according to Richard Davidson, professor of psychology and psychiatry at the University of Wisconsin–Madison. 
Some may already have plans for this upcoming summer, but for those who do not, now is a terrific time to begin the process! Read along to learn more about some of the most underrated and objectively best places to spend the summer of 2022. 
Glacier National Park, Montana
With 700 miles of hiking trails, opportunities for rock climbing, cycling routes, and many park drives, Glacier National Park in Montana is a great summer destination with something to offer for everyone.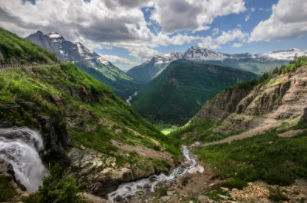 Going-to-the-Sun Road is considered one of the scenic drives in the United States, with its 50 miles through the mountains and Continental Divide. Depending on the traffic, the route usually takes around 2 hours to drive through. Keep in mind that there are also various vehicle reservations for the road, as it is one of the park's most popular attractions.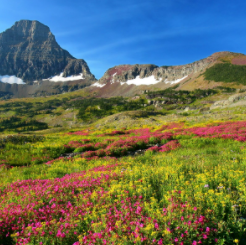 Some of the highlights along the road include the highest point on the road: Logan Pass at 6,646 feet (2,026 m), fields of wildflowers, jagged mountains, and wildlife like bighorn sheep. 
Given the location and potential for severe weather, careful planning is required for this trip. Vehicles longer than 21 feet or wider than 8 feet are prohibited between Avalanche Creek and Rising Sun, and cars over 10 feet in height may have difficulties due to rock overhangs. Also, an extensive portion of the park is only open during the summer months, usually between mid-June and late September. This is due to the show cover and avalanche risks. 
Besides its beauty, the affordability of a trip to Montana is also a massive advantage to making the trip. Its abundance of scenery, free attractions in the wild, and low lodging costs make it a budget-friendly destination. 
Charleston, South Carolina 
The charming architecture, beaches, cuisine, and culture in Charleston are what makes it such a worthy destination. 
From the Historic Charleston City Market to antebellum mansions, Charleston is a well-preserved living museum, one of the nation's most outstanding examples. There is the Nathaniel Russell House: a historic house, known as one of America's most important neoclassical homes. Look up at the statuesque church steeples or down at cobblestone streets. You can explore three hundred years of American history everywhere you turn.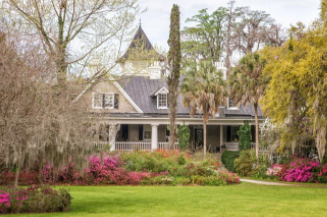 Magnolia Plantation and Gardens is one of the oldest plantations in the South, and is listed on the National Register of Historic Places. The former rice plantation has been owned by the Drayton family since 1676. Black people have lived and worked at Magnolia throughout its 350-year history, first as enslaved workers and then, after emancipation, as paid garden staff.
The city has three public beaches with smooth sands, gentle water and tidal pools to explore within a few minutes of downtown Charleston.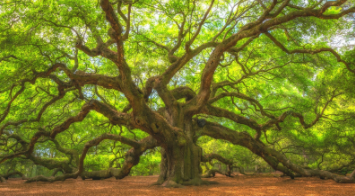 Charleston is also known worldwide for its amazing local award-winning chefs and specific traditional foods. No other restaurant in Charleston has received as much publicity as Husk. Only Southern in-season ingredients are used and the menu changes are dependent on the season. 
While visiting do not forget to snap a picture with the Angel Oak Tree which is said to be one of the oldest standing oak trees at around 400 years old! It has grown 65 feet high with a circumference of 25.5 feet, shading an area of 17,000 square feet.
Mackinac Island, Michigan 
This island features a massive amount of activities for just about anyone! You can explore the beauty and history by foot, boat, bike, or even horse. But what makes the island so special, is that there are no cars allowed on Mackinac Island, which is why horse-drawn carriage rides are a popular way of getting around. Although you must take a boat to reach the island. And at certain times of the year, you may even be able to snowmobile to Mackinac Island.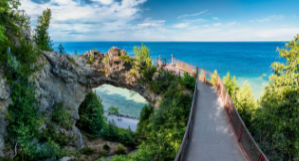 One of the most popular attractions at Mackinac is undoubtedly Arch Rock. The most famous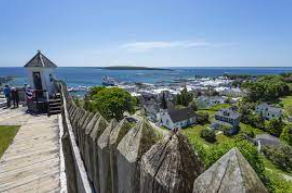 of the limestone rock formations on the island, this arch towers 146 feet above the Lake Huron shoreline and is more than fifty feet wide. 
Not only does Mackinac sound like a place out of the past, it is home to historic Fort Mackinac. It features the oldest building in Michigan and 13 other historical structures boast exhibits explaining everything from
military training and battles to medical treatments to family life within the fort. The British built the Colonial-era fort on the island's bluffs high above the Straits of Mackinac. 
Bryce Canyon National Park, Utah
This is a fantastic location for travelers who want to immerse themselves in the American Southwest, without the scorching hot temperatures. With average highs hitting around 75 ℉ during June, the park has much milder weather than the surrounding regions.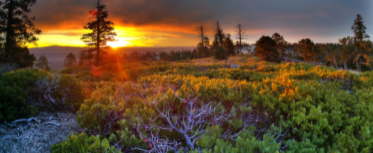 An added benefit to visiting the park is its lower popularity, relative to Zion National Park, approximately an hour away. With 2.6 million visitors in 2019, Bryce Canyon is America's 12th most popular park, compared to Zion's 5 million visitors. Both are must-see sites and crowds are common at most scenic overlooks at both parks, especially in summer, but the atmosphere is quieter than at Zion.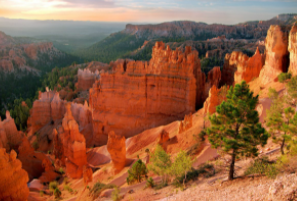 The park covers a vertical distance of over 2,000 feet, meaning it exists in three distinct climatic zones: spruce or fir forest, Ponderosa Pine forest, and Pinyon Pine or juniper forest. But its crimson-colored hoodoos, which are spire-shaped rock formations, are undoubtedly the most iconic park attraction. In fact, at Bryce, they are found in the highest concentration anywhere on Earth.
When searching for the best hikes to complete when traveling, check out the National Parks Service's Website which gives details on the conditions, distances, and elevations of varying hikes in the park. 
If visiting, make sure to see the park during sunrise or sunset to witness the famous warm glow of the rocks. Check out Sunset Point where you can capture some of the most glorious sunsets in the canyon!
Acadia National Park, Maine 
The first national park east of the Mississippi River, Acadia National Park is a 47,000-acre Atlantic coast recreation area primarily on Maine's Mount Desert Island. It features a landscape marked by woodland and rocky beaches.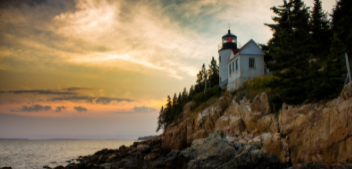 Hiking, biking, camping, breathtaking views of jagged coastlines, and pristine lakes are available to visitors. As well as viewing some of the incredible wildlife like moose, bears, whales and seabirds. 
Visitors can trek on 158 miles of hiking trails to view attractions like Jordan Pond's shockingly clear water, with visibility normally 44 feet and occasionally recorded up to 61 feet, the deepest recordings in Maine. Bass Harbor Head Lighthouse is another crucial attraction. Constructed in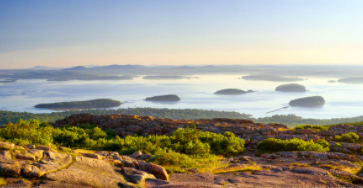 1858 from funds appropriated by Congress, the structure was considered significant for its mid-19th Century design 
The glacier-scoured granite peaks such as Cadillac Mountain, the highest point on the United States' East Coast, are another specialty of Acadia. But be aware that vehicle reservations are required to drive the Cadillac Summit Road from May 25 to October 22.
Wishing you the best of luck with your trip planning and hoping that this provided you with inspiration! Have a great summer Raiders, and see you all in the fall 🙂