Buy it or bag it?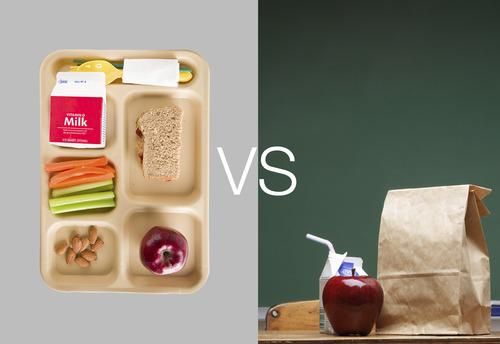 Hang on for a minute...we're trying to find some more stories you might like.
Enough sleep, efficient study habits, and good nutrition—these all contribute to success in high school. But here's the real question; how are schools providing the best, most nutritional lunches to students across the country?
The NSLP, or the National School Lunch Program, was created to improve nutrition and benefit the health of children. Its goal, when it was created in 1946 by President Harry Truman, was focused on providing students with nutritionally balanced, low cost lunches every day. In 2012, Congress voted on large changes to the program that included increasing whole grains, fruits and vegetables and restricting calories: fat and sodium.
Some students polled at Glenbard South and Glenbard West have negative associations with cafeteria lunches. Says Madi Field, a Glenbard South student, "they're grossly unhealthy, and completely unappetizing." Annie Gathof, an unhappy Glenbard West student says, "I'm vegetarian, so I can't even eat half the stuff anyway." However, contrary to these popular beliefs, school provided lunches may have their upsides.
As well as being more convenient than packing a lunch for yourself every night, school lunches can actually be healthier and more balanced than a sack lunch brought from home. Based on a 2001 study by Dr. Alice Jo Rainville, a professor of nutrition and dietetics at Eastern Michigan University, school lunches serve, on average, seven times more servings of vegetables than people bring from home. According to the USDA, all grains served in school lunches must also be whole grain rich.
Glenbard South is trying not to fall behind in the movement of healthier school lunches. Glenbard South has a contract with a company called Sodexo that provides food services. A variety of foods are served every day to provide students with a wide range of minerals and vitamins. Every meal purchased must include at least one serving of fruits or vegetables. All the food groups are offered, including low fat or fat free milk, whole grain hamburger buns, and fresh salads and apples. There are even non-meat protein options for vegetarians. Eligible students are offered free or reduced lunch that supply low income families with healthier options that may not be otherwise available to them.
Glenbard South always has the lunch schedule posted for the entire month, so people will know what the upcoming meals will be. Student can find upcoming menu items under the student section of the GBS website, or at this link https://glenbardsd.sodexomyway.com/landing/high. Bon Appetit!