"Loveless" by Alice Oseman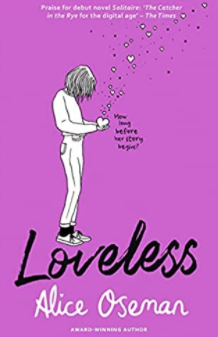 The novel "Loveless" by Alice Oseman is about Georgia Warr, a girl in her first year of college. Throughout the novel, she explores her sexuality, or should I say lack thereof. The book shows her exploring how she loves different people, while also "catching up" on the exploration she avoided in high school. 
I loved how Oseman consistently showed the self-doubt and realization that Georgia goes through. She shows that the character is not perfect, while also showing that the people around her are not either. The honesty and depth shown throughout the book is something that makes you realize just exactly how she feels because you feel it along with her. 
I highly recommend reading this book, especially if you are struggling with figuring out who you are. Even if you are not queer, it does not hurt to see what other people feel and go through. I could not stop reading this book, and honestly think it should get a 5/5 star rating!