An Overview of D87's School Board Candidate Projected Election Results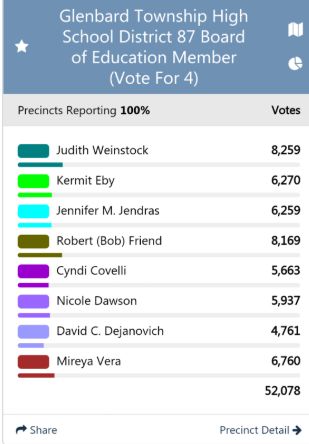 According to the Dupage County Election Website, 100% of precincts have reported voting results for the 2021 District 87 school board election. There were eight school board candidates running for election this past season, however only four could be voted in for a position on the board.
Judith Weinstock, Mireya Vera, Kermit Eby and Bob Friend ran as part of a slate titled "Glenbard Strong" which valued a "strong and compassionate school community" and "quality education" according to the @Glenbardstrong Instagram account.
The next four candidates, who were Jennifer Jendras, Cyndi Covelli, Nicole Dawson, and David Dejanovich ran as part of the 'Students First' slate. According to the slate's campaign website, d87studentsfirst.com, these four candidates valued unity, transparency, accountability, and safety.
As of April 21st, Eby, Friend, Vera, and Weinstock were the projected winners. Assuming that these results will not fluctuate, Weinstock, Vera, and Friend will each be incumbents. The term 'incumbent' means that these members had been elected to and served on the school board in previous years. Eby, however, will be a first-time member of the board if officially elected.
At the top of the image below, a statement reading 'Precincts Reporting 100%' was shown. Once every precinct reported its votes, this statement appeared above the election data. However, the meaning of this statement often has been misleading to many.
Although the statement asserted that 100% of the precincts that participated in voting were now reporting, this did not necessarily mean that the election results are official. The Associated Press stated that even if 100% of precincts are reporting, it was possible for more votes to be added to the count in a race.
This will occur if a precinct was counted as reporting but has not yet disclosed or fully counted all of its votes. In many instances, these last votes were mail-in ballots that had arrived late.
An announcement confirming the official election results has now been posted, and the final results can be viewed at https://www.dupageresults.com/IL/DuPage/108904/web.276013/#/summary?category=C_4 .
About the Writer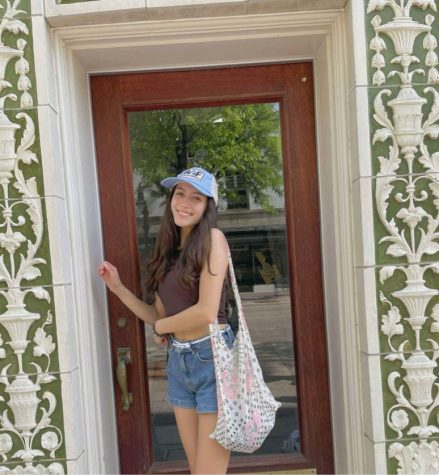 Maya Page, School News Editor
My name is Maya Page, and I'm a senior writer/editor for school news. At South, I I'm a member of the tennis team, student equity council, a student-led...