Why SAT prep is important
Hang on for a minute...we're trying to find some more stories you might like.
With SATs just around the corner, juniors everywhere are beginning to think about the search for colleges. SATs are important, being one of the top three most important aspects that colleges look for in applications, according to ivysise.com. Because of this, improving one's SAT score 30 points can give one an advantage over one's competitors.
SAT prep comes in many shapes and sizes. One can pay a large sum of money for personal tutors and structured online classes, but there are plenty of free options as well. One of the great parts of SAT prep classes is that not only do they teach the material, but also offer strategies like how to best manage time and narrow down answers if one has to guess. Whatever prep work is done, it is likely that it will help raise scores no matter what it is.
Personalized tutors might initially sound like the most beneficial option. It is true that having someone know one's individual strengths and weaknesses will be helpful to get the most tailored and specific prep that is possible. But is a private tutor really necessary? Private tutors and other paid online classes can be extremely expensive and perhaps not much better than their free counter parts.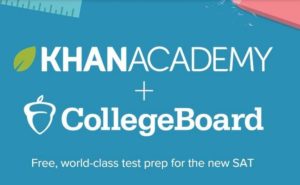 Alternatively, Khan Academy is a free online SAT prep course that is connected to College Board, with the access to all previously taken SATs and PSATs. Based off previous test results, it personalizes a practice plan based on what an individual needs work on. Khan Academy also offers eight full practice SAT tests that one can take at any time. It can be done on one's own time, or one can get scheduled notifications if one needs a little motivation to assist with getting started.
Glenbard South also offers free after school SAT prep classes that run twice a week for two and a half hours. Even taking two or three SATs instead of just one can help one's score by getting used to the test taking environment and understanding of the test format. Just remember—whatever SAT prep one is doing to prepare oneself is better than nothing.