Apple versus Samsung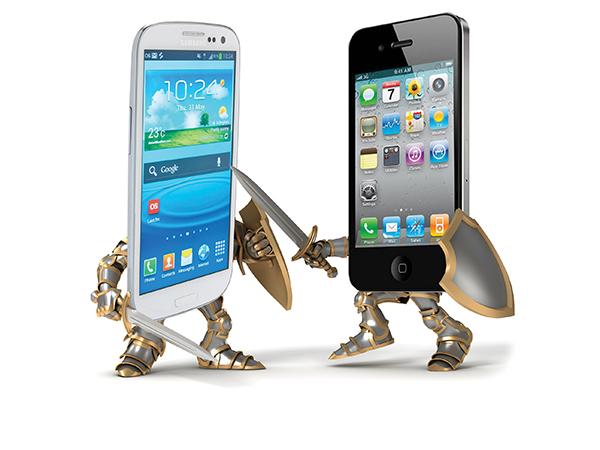 Hang on for a minute...we're trying to find some more stories you might like.
MineTime
Apple and Samsung have stayed as the developers of technology for the modern day. In today's society, no matter if one is eighty or just turned four, everyone has his hands on a new piece of technology, and it seems like everyone is in need of one. The only question is which product is best for you?
There are multiple factors that have come into play between these two major corporations. Apple has created an absolutely stunning and iconic IOS software that is used in a multitude of its devices. While Samsung on the other hand, has created multiple softwares that include incredible personalization features throughout the phone. Although many features sound great to have, in some circumstances the device itself cannot handle all of the options.
No doubt about it these two companies have strived for years to be the best but still end up neck to neck when it comes to sales on similar devices. When looking at Apple, the iconic IOS software that has been used since the first iPhone was created ten years ago in 2007. This software has been developed to be used throughout all their devices from iPhones, to iPads and even in their TV's. This software compared to Samsung is so crisp and clear that there are hardly ever bugs in the system.
Unlike Samsung who releases a new update only on its new phones, Apple sends out an available update each fall that makes each of its phones compatible with its new software giving customers a new experience each year instead of having to purchase a whole new device for the new features. As of 2016, Apple iPhones we're #1 in sales compared to Samsung right below in second, but Apple does not offer some products that Samsung does.
Samsung is not only known for its phones, but for all its products including TV's, Washer/Dryers, Fridges and much more. Samsung has been the number one seller of televisions for the past five years, but can it find a fix to its phones to be number one for smartphones as well? Samsung phones have incredible features with customizable options, waterproof phones and even fit for health with built in heart rate monitors. Despite all of their features, Samsung tends to struggle processing everything which creates a stutter while in use and does not seem to be as capable of certain tasks that Apple's iPhone can handle like downloading new updates and features that have evolved with people's technology recently.
Despite their differences, both smartphones are a step forward in technology which really makes a simpler lifestyle for the people who use these products daily. The question really comes down to the consumer and what their preferences are for a new smartphone.