A Celebration of the Arts
Throughout the month of March, students across the four Glenbard schools had the opportunity to participate in the District 87 Fine Arts Festival, an 11-day event designed to celebrate and educate the district's talented and passionate community of student artists and creatives. The festival included a variety of interesting events- most of which were available for any Glenbard student to attend. 
To kickoff the festival, on Thursday, March 10, select students throughout Glenbard South's fine arts departments were invited to attend one of two student workshop sessions held at Glenbard East.
Students in the drama department participated in a clinic led by Stef Tovar, a Chicago actor, author, and on-camera acting coach who appeared as Dr. Arrington in the movie Contagion. Several Glenbard South drama students attended Tovar's March 10 workshop. During the workshop, these students were able to act and receive constructive advice from Tovar regarding their performance. "My favorite part of the field trip was getting to learn more about acting in general and how to audition," stated Amanda Keil, a senior in Drama Honor Society and a current cast member of Glenbard South's upcoming musical, High School Musical.
Ten students within South's arts department attended the March 10 trip as well. There, they participated in two art-oriented workshops. The workshops were run by Stephanie and Rin Varga, two individuals who made their passion for art into careers. Stephanie Varga led the first workshop, which introduced the student attendees to storyboarding comics. During this workshop, students could design their own storyboards. Later in the day, Rin Varga taught a workshop all about repetition and composition in art.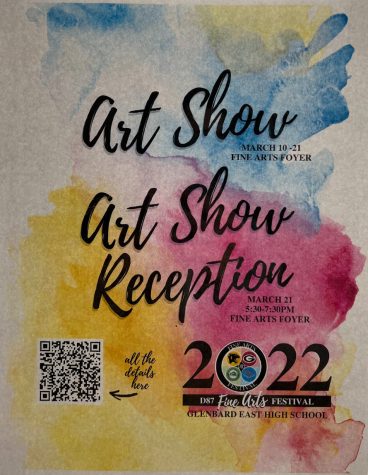 The March 10 trip also coincided with the opening day of District 87's Art Show, which showcased student artwork from across the four high schools.
Hope Gibson, a senior in AP studio art whose piece was displayed, shared that seeing her artwork in the show was "pretty cool…it felt like an accomplishment". Gibson's art piece, called "holding recollection" was centered on the theme of change. "It is about how we change as we get older and the changes that happen around us. It is also about how we try to hold on to our youth, even as we change and get older," elaborated Gibson. The piece was created using several mediums: photoshop, pencil illustrations, and procreate.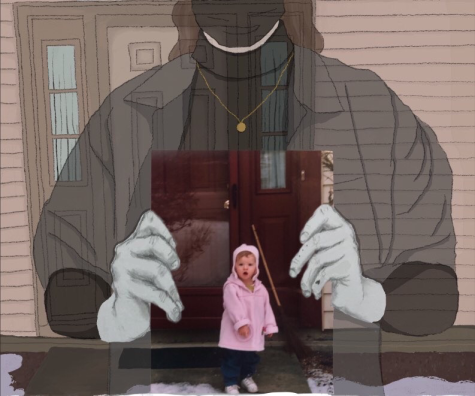 The District Art Show's closing reception was held on March 21st in the Fine Arts Foyer at Glenbard East.   
The festival also featured a fine arts college and careers night held at Glenbard East's Rider Hall. Here, students had the opportunity to attend a college fair as well as small breakout sessions focused specifically on theater/dance, art, photography/film, or music. These breakout sessions were hosted by collegiate faculty members as well as Glenbard alumni who have studied/are currently studying fine arts in college.
The night also included a presentation from Glenbard East alumni Zeshan Bagewadi. Bagewadi, known widely as Zeshan B, is a prominent singer-songwriter whose first album "Vetted" topped ITunes world music charts. Bagewadi even performed his single "Crying on the Streets" live on Late Night with Stephen Colbert.
During the festival's 11 day span, several district wide performances and events took place. On March 15th, the D87 Honors band, an instrumental ensemble made up of the district's top band musicians, performed in Glenbard East's Biester Auditorium. On the 18th, the Glenbard Hip-Hop symposium was held at Glenbard East, however South students did not attend. On the 21st, the Glenbard Film Festival was held in Rider Hall. This event allowed student filmmakers to showcase cinematic pieces they created throughout the year. The festival's final event was the Voices of Glenbard festival and concert, which took place in the Biester Auditorium. Sarah Ledford, a senior in concert choir, explained the event's schedule. "During the school day, all four Glenbard schools joined together at East and practiced the songs with each other. It was an all day event and there was a lunch break for everyone," explained Ledford. "In the evening, we went back to East and performed the songs we practiced for family and friends for a district wide concert!"
The concert's last piece of the night combined the four Glenbard choirs for a performance of the piece "I Will Sing" by Michael Engelhardt. Ledford described the piece as "an upbeat song with moments of unison in many different parts" which "sounded amazing put together!" 
This year's Fine Arts Festival brought together the four Glenbard schools to shine a spotlight on the district's talented body of student creatives who are on their way to becoming the world's next generation of artists. It reminded both performers and attendees of art's unique ability to unite society through the creation of something beautiful yet impactful.